Olivier Lovey
exhibits his works since May 2022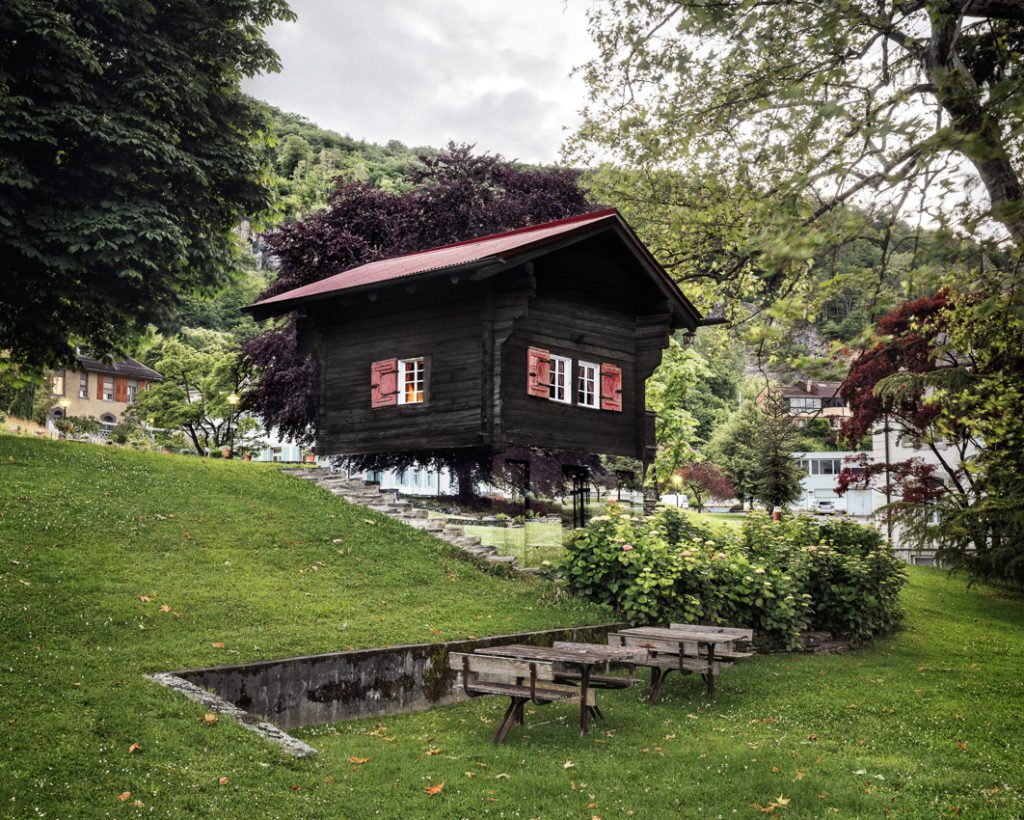 Miroirs aux alouettes 2016 (on-going)
In my series Miroirs aux alouettes, initiated in 2016, I create impossible images, close to surrealism, by sticking stickers in public or exhibition spaces. By mixing reality and its double, I question the limits of image and representation. In particular, I revisit the notion of perspective, trompe-l'oeil and mise en abyme. Initially thought to be photographs, my works however also function as installations.
Baudrillard asserted that illusion is not opposed to reality, but that the latter is only a particular case of reality. My work revolves around this singularity. The principle of anamorphosis that I sometimes use is the most obvious example, but more than a point of view, photography also freezes a moment. So my images are the result of a long process of trial and error where I test different collusion of images and different light conditions. In a way, I create heterotopias. These non-places according to Michel Foulcault which can juxtapose in themselves several spaces themselves incompatible in real space and in their chronology. By mixing the real and its photographic double, I question the limits of these and I test the strength of the photographic illusion.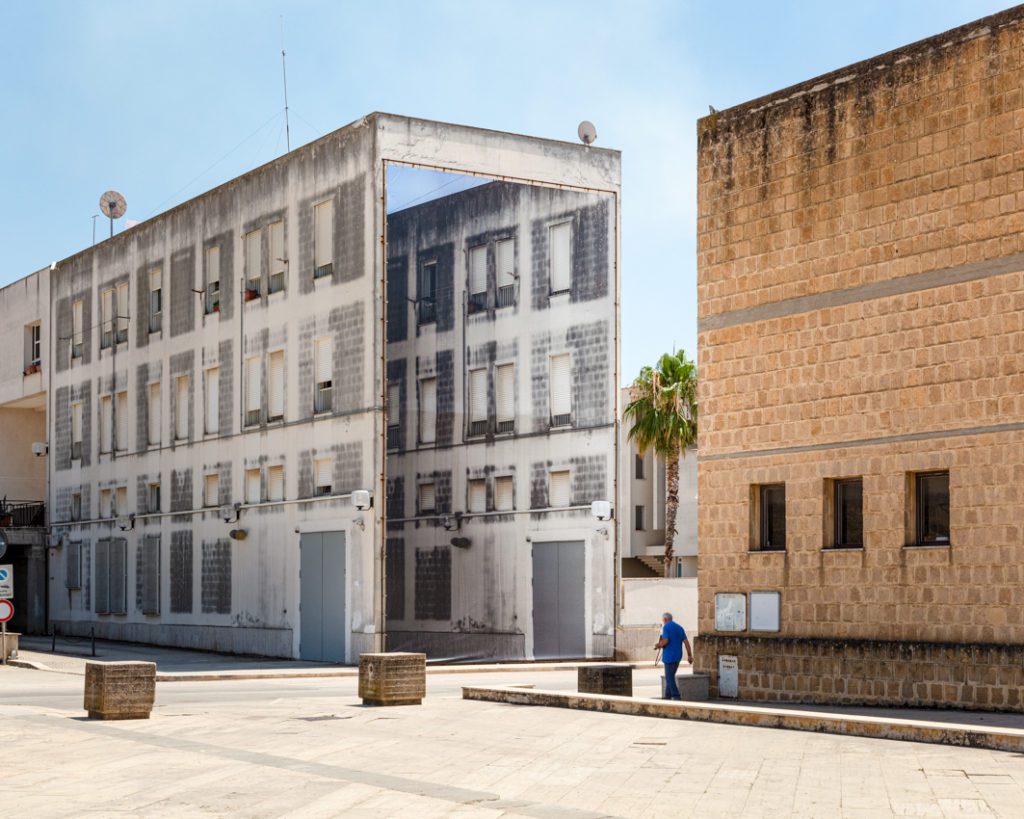 But my goal is never to confuse the two. It is important for me that we see imperfections in my sticker installation. The spectator thus has in mind that "it was" (Barthes) really. The final print is very different from a simple photomontage using editing software.
---
Olivier Lovey
www.olivierlovey.ch
Bio 
Born in 1981 in Martigny, Olivier Lovey graduated from higher education in photography in Vevey (2011). His work has been exhibited, among others, at the Prix Photoforum 2012, 2014, 2018 Selection/Auswahl in Bienne, at the Prix Voies-off in Arles 2013, at the 18th Prize for young talents vfg in photography in 2014 as well as at the Boutographies of Montpellier where he received the Photo Responses award. In 2018, he exhibited at the Images de Vevey festival and won first prize at the Swiss Photo Award in the Fine Arts category with his series Miroirs aux larks. In 2019, he exhibited among others at the Athens photography festival, at the Gibellina Photoroad festival in Sicily as well as at the Ferme Asile in solo.
Exhibits
Miroirs aux alouettes, (expo solo), 09.2020, Zone30, (Sierre -Suisse)
Un sommeil sans rêve, (expo solo), 03.2020, Quartier général (La Chaux de fonds – Suisse)
The Feature Shoot Emerging Photography Awards, 01.2020, Aperture gallery (New York – USA)
Geste, la vérité déguisée, 11.2019 (Paris-France)
En attendant la plage… (expo. solo), 2019, Espace Graffenried (Aigle-Suisse)
Photo Road, International Open Air Photography Festival, 07-08.2019, (Gibellina-Italie)
Athens Photo Festival 2019, 07.2019 (Athènes-Grèce)
Macula (expo. solo), 05.2019, Ferme Asile (Sion-Suisse)
Contre-pied, Enquête photographique valaisanne EQ2 2019 (Brig-Suisse)
Prix Photoforum 2018 Selection / Auswahl, 02.12.2018 – 13.01.2019 (Photoforum Pasquart, Bienne-Suisse)
Festival Images, 2018, (Vevey-Suisse)
Appetizer, Forum Wallis, Château de Loèche, 17.05.2018 -21.05.2018 (Loèche-Suisse)
EWZ Swiss photo Award (Fine Art), Photobastei, 22.03.2018 – 15.04.2018 (Zürich-Suisse)
Vertigo (expo with C.Raccio), Grenette, 26.02.2018 – 25.03.2018 (Sion – Suisse)
Lunatic Park, 03.06.2016 – 20.10.2016, Parc de l'hôpital de Malévoz, (Monthey-Suisse)
Awards
The Feature Shoot Emerging Photography Awards, 01.2020, Aperture gallery (New York – USA)
EWZ Swiss Photo Award 2017 Fine Art
Jean-Louis Foucqueteau
has exhibited his work here from Nov 2021 to Apr 2022
Fascinated by Coca-Cola since childhood, Jean-Louis Foucqueteau from Lausanne is today one of the world's greatest collectors of objects linked to the famous brand. Its collection retraces, through rare, often unique collectibles, the story of a myth. Throughout its long history, Coca-Cola has inspired countless graphic designers, advertising houses, marketing departments, and a large number of renowned artists. Bottles, old toys stamped with the famous logo, drink dispensers, posters… even the can that traveled into space aboard the Challenger shuttle in 1985.
It is such pieces that Jean-Louis Foucqueteau has tirelessly collected for more than thirty years. Its treasure, rich in ten thousand objects, has often given rise to prestigious exhibitions. It dates back to the beginnings of the Coca-Cola adventure, and testifies to all the artistic potential that a consumer product can convey. The collection culminates with works by renowned artists such as Brad Howe, David Buckingham, Jérôme Mesnager, Burton Morris, Franck Bouroullec, César, Kriki, François Boisrond, Robert Combas, Ben Vautier, Errô, Jeff Schaller and Rolf Knie.